Okay, so I'm a few mintues late, as his birthday is on the 6th. But it's still the 6th in Malibu, so suck it.

I decided to undertake a massive Axl picspam in honor of his 48th birthday. Our fearless leader is one bad ass motherfucker, and it deserves to be documented. Are you ready? Hold on to your undies, ladies.

The theme of this one is Axl's ever-changing look throughout the years. As we all know, every couple of years he reinvents himself. Sometimes this goes well. Sometimes...it doesn't.

The first one, I don't know when this is, exactly, but it's pre-Appetite tattoo, so probably the mid-eighties. He's in his early twenties.



Adorable, right?


This is probably from around the same time. He's just so cute and dirty all at the same time!



In the mid-eighties came the popularity of hair bands, or glam metal. Yes, GN'R went through this phase along with Poison, Motley Crue, etc. But after they did the Welcome to the Jungle video, they got that crap out of their system and just maintained good, old-fashioned rock band status.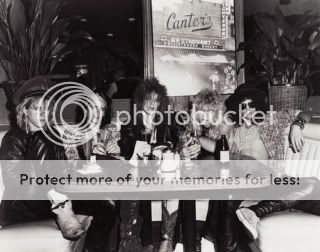 Here's a picture of him wearing Slash's top hat that I've come across recently, and...it's just good, let's say that.



Now we have the late eighties/early nineties, where he is just plain hot. He and the band still like each other, he hasn't gotten himself into too much controversy yet, and the band's popularity is soaring thanks to the massive hit Appetite for Destruction, which virtually changed the hard rock genre forever.



This is pretty much the best picture that ever happened:



In 1991, Guns N Roses started the tour for Use Your Illusion 1 and 2, which hadn't even come out yet. The tour lasted for 2 years and consisted of 192 shows in 27 countries. Their popularity was out of control at this point, that is until Nirvana came along and ruined it all.

The band, due to drug use and egos and other assorted things, started falling apart. There were riots, a lot of late starts, epic Axl ranting and temper tantrums, etc. Axl was also seeing Stephanie Seymour during this time...that bitch. He was also wearing...interesting outfits, like the infamous kilt: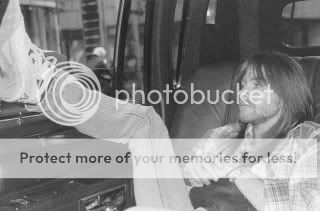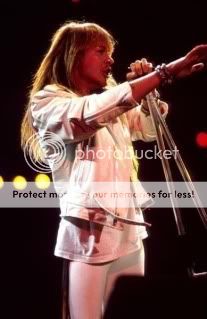 This is apparently the last picture of Axl and Slash together, from the last concert of the tour, in Argentina in 1993. Intense.



After the tour was over, Axl performed "Come Together" with Bruce Springsteen. This is the last public appearance he makes for another 6 years.



From 1995 to 2000, the band as we know it completely falls apart. Axl remains the only original member. He and Slash, once considered an epic rock and roll partnership, have an epic falling out. Axl starts working on Chinese Democracy, which doesn't come out until 2008. As "alternative" music ravages the music industry, and then soon after the boy bands start their reign, rock bands find themselves not needed or wanted anymore. Pretty much, this era sucks for everything I liked about the world.

In June 2000, Axl decides to reappear with ex-GNR member Gilby Clarke, shocking the shit out of everyone ever.



On New Years Eve 2000, the new Guns N Roses, now featuring Buckethead (!) plays their first performance ever at the House of Blues in Las Vegas. It was an epic return for Axl, and his new band sounded pretty damn good. 2 weeks later, they perform at Rock in Rio. Axl is...having some issues. He doesn't sound like he did before, which is not to say bad, but just not the same. You can see he has lingering bitterness from the original lineup's breakup. It doesn't help that a large majority of GNR fans never want to move on with their lives and accept the current band.



There were 2 more performances that year, on Dec. 29 and Dec. 31st, in Las Vegas. Slash was supposedly at the show on the 29th, but Axl wouldn't let him come in. It's a rumor, who really knows these things? There was also a lot of technical problems at this concert. But the one on the 31st was perfect and wonderful and sounded amazing, and I know because I was there. Suck it.

And then there's 2002. *sigh* There are rumors of plastic surgery. And, well, you have to admit that this isn't Axl's best look. I still cringe when I see pictures from this time. Not just because it's not very flattering, but it was like he was trying to make himself move on from the past so much that he's virtually unrecognizable.



Things start going very wrong for Axl in late 2002. He makes a surprise appearance at the VMAs, and screws himself over from the beginning by blowing his voice out at the beginning of Welcome to the Jungle.



Then he goes on tour, where he is constantly late, having tantrums, causing riots...all to an audience who barely cares, because why should they? It's obvious Axl couldn't give a shit about them. The tour goes down in flames, bad press engulfs Axl, and he disappears for 4 very long years.

In 2006 he resurfaces! He still has the braids, but they look less douchey now. He has lost weight and actually looks pretty damn hot. His body is smokin'. The band, now without Buckethead but with the awesomeness of Bumblefoot, sounds awesome. There's a huge tour that lasts for a year, with only a few dramatic tantrums from Axl. He promises Chinese Democracy will come out soon, which is true if you think "soon" means "2 years from now."




Instead of the jerseys he was rockin' in 02, now he's dressing fashionably, making appearances in public looking like he is supposed to be going to a business meeting. He's being social, doing things like playing an Armani fashion show (or something) and Rosario Dawson's birthday party. He also gets into a fist fight with Tommy Hilfiger, but we won't talk about that.




He also, for some inexplicable reason, does a photo shoot for the Italian Vogue. Oh, and looks fucking smokin'.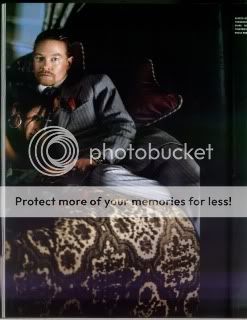 The tour ends. He goes back to Malibu, where no one knows when, or if, they'll ever see him again, or if the album that he's already spent 7 years touring in support of will ever come out. In November 2008, it did, to a so-so reaction. Critics tended to like it, though. It wasn't a complete flop, actually doing quite well in many countries. We're just assholes in America. But don't blame me, I bought, like, 9 copies.

In 2009, a new guitarist is announced, DJ Ashba. Now the band has 3 guitarists! How will that ever work, and does that mean they're going on tour? In December 2009, the new and hopefully permanent lineup of Guns N Roses debuts in Asia, and then in 2010, Canada. Axl is in great spirits, having come to some kind of crossroads and kicking that crossroads square in the ass. His hair is braid-free, and the bandanna is back. His voice is on fire, the concerts are lasting at least 2.5 hours each, the band's chemistry is palpable. Things seem to have turned around, and if we can ever get the general public over that "BUT WHERE IS SLASH OMG" hump, it can only get better from here.




I don't know who this biatch is, but she should definitely DIAF.



So, in summary, happy birthday to Axl Rose, who has lived a hell of a life in his 48 years. He has inspired so many, and the world is a more interesting place with him in it. He doesn't play by the rules and refuses to sell out, and that is what so many people love about the guy.

Did I forget anything?

Rock on, y'all.